Ship a bicycle as a package
Suitable for bikes which can be removed easily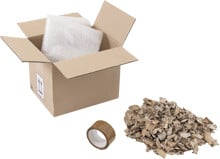 This is one of the safest alternatives. In this case you have to disassemble your bicycle. So disconnect the handlebar, the wheels, the pedals and the saddle and pack every single piece in pluriball (polyethylene with air bubbles) and cardboard. The maximum dimensions for shipments as individual packages are of 190 cm (the sum of length + width + height must not exceed 190 cm) and the limit weight of 50 kg. Therefore it is important to previously take the exact measurements! For the packaging you can also use an old pack, which can be adapted to the restrictions. Make simply cuts of 1-2 cm in all four corners of the carton and fold the open sides inside. If you need to scale down the cardboard, then cut also out the folded sides. Suggestion: measuring twice is better than cutting to much!
Ship a bike as a pallet
Appropriate for Mid-Range bikes, which can be removed in only large pieces
Even this transport alternative is largely safe and uncomplicated. Simply get yourself a common euro pallet and disconnect the pedals, wheels and handlebars from the frame of your bike. You can then attach the individual pieces on the pallet. Protect them with pluriball and / or stable cartons. The pallet measures may not exceed 80 * 120 * 180cm. Pay attention to the bicycle frame to do not protrude out of the pallet. If you stick to the specified maximum measures then everything is under control!
Send a bicycle in a carton
Suitable for professional Bicycle, which due to technical finesse should be sent in full
There is also the possibility of packing the bicycle in an appropriate paperboard and send it. This alternative is proposed to fine patterns, as the bike is packed in a professional cardboard, which is properly designed for a secure and stable transport. A carton of this type can be bought, for example, in a specialist shop. The carton is manufactured of 2,40 wave BC, so that the bicycle reaches the destination well-padded and intact. The disadvantage: in normal cases this type of packaging exceeds the limits of the pallet. For this reason a special offer should be made. Of course we find also in this case a solution: contact us by e-mail at [email protected] and please state your package measures, the weight of it, the ZIP code of the pickup location and destination also. It will be our thoughtfulness prepare a quote as soon as possible.